The North Greenland Eemian Ice Drilling - NEEM - was an international ice core research project aimed at retrieving an ice core from North-West Greenland (camp position 77.45°N 51.06°W) reaching back through the previous interglacial, the Eemian. The project logistics was managed by the former Centre for Ice and Climate, Denmark, and the air support was carried out by US ski equipped Hercules managed through the US Office of Polar Programs, National Science Foundation.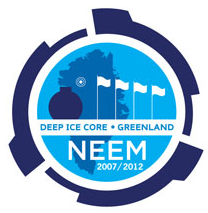 The drilling was completed in 2012, however the scientific work of processing and interpreting data is ongoing. Read more about the findings in the publications section.
In 2015 the camp was packed down and the equipment was pulled across the ice for another deep drilling project, The East Greenland Ice-core Project (EastGRIP). This project aims to retrieve an ice core by drilling through the Northeast Greenland Ice Stream (NEGIS). Read more about the EastGRIP project here.
Get a free ride in the NEEM Camp