29 July 2011
The Main Dome is standing on skies


Gunnuar with the snow blower
At 10:33 local the last supporting leg of the Dome was cut and the Dome solely was standing on the four skies. A very remarkable event and a big salute to the Dome sledge mounting team Sverrir,Villi, Alli, Gunnuar and Sepp. The Dome is much more solidly placed on the skies than the 16 legs that where beginning to bend.

The drilling team at B26 had a broken cable at 01:30 am and had to stop drilling at the depth 14.7m. After some hours of sleep the radar and gps programs were completed and the team returned to camp at 15:00 local for cable repair. Weather forecasts predicted a storm Saturday and Sunday and the traverse, the AWI drilling, the UAV program and the  ramp building for the Dome movement was put on halt until the storm has passed in a few days.
What we have done today:
1.  Monitoring of water vapor
2. Japanese aerosol station monitoring
3.  Drilling with the AWI drill
4.  Drilling to 14.7 m at B26 (77.2533N, 49.2167W)
5.  Completing radar net and gps net at B26
6.  Traverse returning to camp at 1500 local
7.  Cutting the last legs under the Dome
8.  Due to low cloud cover and increasing winds the UAV's stayed on the snow
Weather: Changing overcast, Temp. -9 °C to -7 °C, wind 6 to 16 knots, wind turning from NW to SE.
FL, Dorthe Dahl-Jensen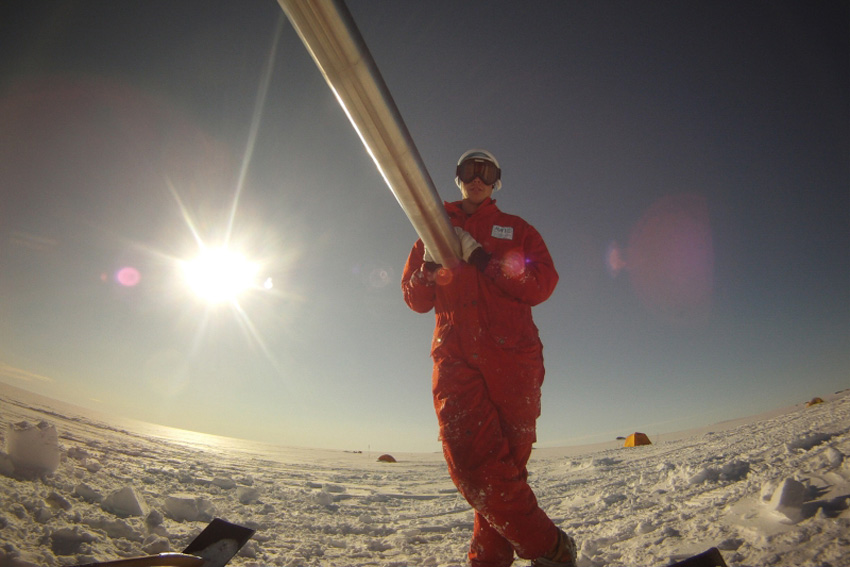 Martin and Phillip have success with the AWI drill