4 July 2011
Drilling in the deep hole

First core drilled with the 1 inch rock drill

Today was the first day where we drilled in the 2537 m deep borehole. The old rock drill used at the GISP2 site was mounted below our motor and gear section and lowered to the bottom of the borehole.
We managed to drill some material up. It consists of ice bits that looked as if they are squeezed/melted together. We are not quite sure what we are seeing and will try to drill a core more tomorrow.
So we ended the day with a wonderful barbeque in front of the Dome to celebrate the 4th of July.
What we have done today:
1. Bailing of drill liquid out of the 2011 S1 borehole
2. Drilling in the NEEM deep borehole with a 1 inch rock drill
3. CFA team calibrating and packing
4. PICARRO measuring at the water vapor station
5. Temperature measurements at the 2009 S1 shallow borehole site.
6. Grooming skiway
7. Removing snow around the sauna garage
Weather: Blue sky, temp. -4°C to -12°C, wind 5-12 knots from S to SW.
FL, Dorthe Dahl-Jensen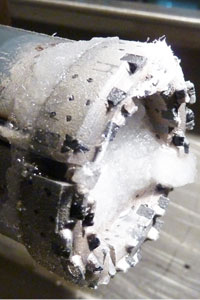 The rock drill  The rock drill

Celebrating the 4th. of July with a barbeque on the ice.