29 July 2010
Camp changes gear


Tim repairing the outdoor toilet tents
Yesterdays goodbye to 23 and hello to 8 has changed the activities in camp. The New Zealand team got their drill and they have taken over the carpenters garage to assemble the tower, winch and drill. The DK intermediate winch and the CH elevated tower are being combined in the sauna garage. The camp talk is about screws, bolts, nuts and tipping towers…
The shallow drilling continues fast and well and the science team struggles with the processing of the very bad brittle ice. Tim used part of the day to repair the outdoor toilet tents with the sewing machine just received in camp.
No more deep drilling and logging.
Final logged depth is: 2537.36 m
Processing: bag 1665-1688 (13.20 m) depth: 928.40m
What we have done today:
1. Drilled shallow ice core 2010 S2 to the depth 66 m
2. Assembling NZ shallow drill
3. Assembling DK intermediate winch and CH elevated tower
4. Filtering deep bore hole for ice chips – only few kg recovered
5. Moving Bryns logging equipment to drill trench
6. Cleaning and making order in the drillers workshop
Weather: Sunny day with between -12 °C and -5 °C. Wind 4-15 kt for SE changing to SW. During night ground fog/low clouds came in.
FL  Dorthe Dahl-Jensen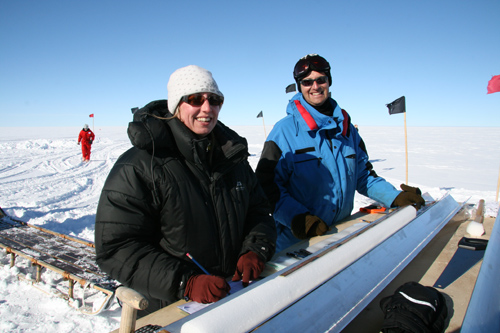 Tina and Jerome (who has left camp now) logging the shallow ice cores