24 July 2010
Drilling rocks

Deep rock drilling requires great concentration
Over the last days drilling has been most cumbersome with many broken cutters and several unsuccessful attempts to bring cores to surface. Today a spectacular result of the hard efforts came to surface in the shape of a 5 cm long stone at the side of the core. No wonder that it was a struggle to drill this core. The stone is embedded in a 10 cm wide silty layer, which consist of black and brown particles in the 10-1000 micrometer range.
The science trench processers started the processing of the brittle ice stored in the core buffer again. The ice is badly broken in this zone and has been quite a change from the strong and plastic basal ice.
Drilling: 0.98 m, drillers depth: 2521.98 m
No logging today.
Processing: 8.80 m (bag 1573-1588), processing depth: 873.40 m
What we have done today:
1. Drilling ice core with rock.
2. CFA packing.
3. Grooming of camp area and skiway.
4. Ice core processing.
5. Media filming, photographing and interviewing in camp.
6. Enjoyed three-course five-star Italian dinner prepared by the CFA team.
Ad 1. The first  run today was made with the sharpened step cutters and no core catchers. With some effort we managed to get the cutters to grip and drill a few cm's. The cutters where bady dulled and especially the inner corners where grinded away. In the second run the core catchers where closed with windows in an attempt to let the ice squeezed out in the holes clap the ice core. It was very successfull and we managed to get a 98 cm core up with very high concentration of impurities. Thanks to Steff for the good advise!
We have used 4 drilling attempts including sharpening of the cutters and 3 attempts to pull up the core including sharpening of the catchers before this core was on the surface. We will attempt to use the catchers with windows and good cutters in the next run Sunday morning.
Weather: Today we finally had improving weather conditions. We see the sun again, temperature has dropped to -13 °C at 20:00, wind has decreased to a few knots from SW, and pressure is rising. There are still some clouds around, but it looks promising for a flight mission tomorrow.
FL's Dorthe Dahl-Jensen and Anders Svensson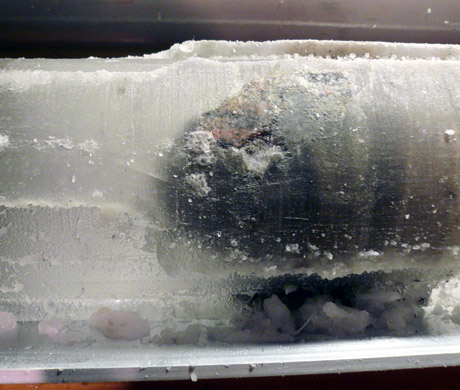 The 5 cm rock (granite?) embedded in the ice core – did we drill through it?