4 August 2011
Back to science

Dome on skies.


After the great event of moving the Dome yesterday life is back to normal and we struggle to finish our science programs before packing down takes over.
A great success was the efficient drilling of a 40m deep ice core for the Ice2Sea program combined with AWI radar measurements and located over a CRYOSAT satellite track. During the evening the AWI drill got stuck at the depth of 50m and we begun the 'rescue' program for the drill.
What we have done today:
1. Monitoring of water vapor, last day
2. Japanese aerosol station monitoring
3. Filling the Dome snow ramp in with snow again
4. Return of the drill traverse to the Ice2Sea site 77.85210N and 52.02630W
5. AWI drill got stuck at 50 m depth
6. Troubleshouting the Meridian
7. Planning for next flight period and pull out
8. Writing plastic bags for the stable water isotopes samples of the 40 m
    Ice2Sae ice core
Ad 4
The Ice2Sea traverse team of Lars, Susanne, Bruno and Tanja arrived
at the site at 20:00 the previous day and started to setup the drill
immediately. Tanja started her radar grid supplemented with pit sampling
in a net around the drill site. The teams continued through the night and
were ready to return to NEEM at 05:00 in the morning. The two skidoos
with the five Nansen sledges returned to NEEM at 08:00.
Ad 5
The AWI drill got stuck at the depth 50m at 22:00. The cable
was tensioned to 750 kg and two times 5l glycol was poured down through a
hose to the drill. There was a slight upwards movement of the cable. The
tension was left on overnight.
Weather: Blue sky, temp. -18°C  to -7°C, wind 5 to 12 knots from SE
FL, Dorthe Dahl-Jensen

Ice2Sea traverse returning to NEEM camp after drilling and making radar measurements  all night.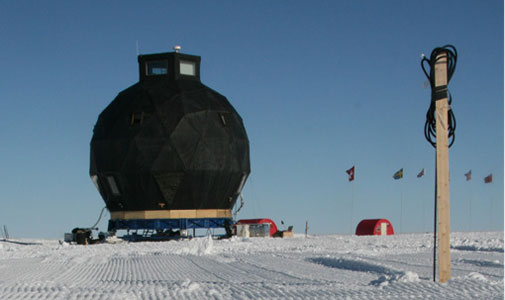 The ramp and hole from the previous Dome position has been filled in so the route back for the Dome is ready.