3 August 2010
Bryn's Birthday


Tanner blowing the inclined trench.

Another good and productive day. A 5m deep inclined trench was prepared just behind the mechanic garage for the test of the NZ drill. The brittle ice processors celebrated processing the ice from the depth 1000 m. AND it was Bryn's birthday which was celebrated with a Walsh (we hope) fruitcake and a birthday song after dinner.
No more deep drilling and logging.
Final logged depth is: 2537.36 m.
Processing: bag 1809-1847 (21.45m), depth: 1015.85m.
What we have done today:
1. Measured part of the GPS net further from camp.
2. Assembling NZ shallow drill and made an inclined trench to test the drill.
3. Tested DK intermediate winch and CH elevated tower.
4. Logging with Bryns logger.
5. Processing brittle ice.
6. Celebrated Bryn's birthday.
Weather: Ground fog most of the day. Temperatures between -18 °C and -5 °C. Wind 3-6 kt from S SW.
FL Dorthe Dahl-Jensen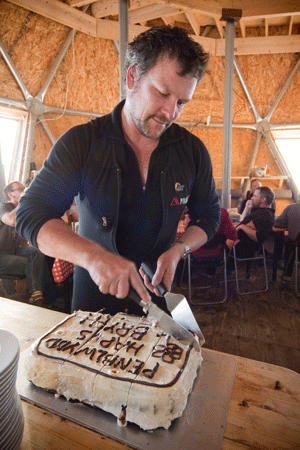 Bryn cutting his birthday cake.