21 May 2010
NEEM air port closed due to Icelandic ash cloud


The dogs had to wait another day, so Trevor kept them company by baying at the Moon with them.

This is the most incredible tale. We expected a plane this morning.
Weather was fine, so we called in a plane. Then they called from Kangerlussuaq and told us that our airport was closed due to Icelandic ash. NEEM was today the only spot in Greenland where the ash was!
We include the ash cloud map from today in our pictures. Somehow nature has demonstrated a strange sense of humour. The ash cloud was only present on top of NEEM in a 100 km radius. Luckily, weather was fine so our day passed in a growing routine. We now try to get a plane in tomorrow morning.
What we have done today:
1. Drilling and logging.
2. Setting up equipment in warm laboratories.
3. Processing ice cores.
4. Removing snow drifts in camp and grooming main street.
5. Canadian sampling for pollen in the ice chips has begun.
6. Mounted plastic curtains in the connecting tunnel.
7. Installing LAN cable from drillers cabin to drillers workshop.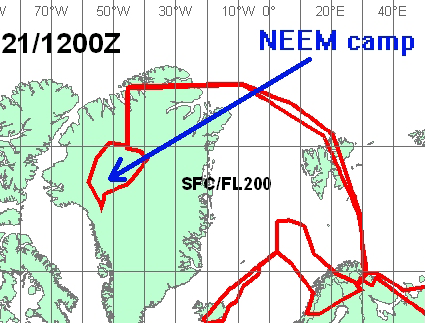 Map showing the extent of the ash cloud from Eyjafjallajökull. We couldn't believe our bad luck. 
Ad.1: Drillers report:
We drilled 19.12 meters in six runs on Friday. We have tried various configurations of boosters positions and centering rings on the hollow shaft to improve chips transportation. Two full runs with a full diameter one turn booster just below the center junction with no central shaft centering ring showed the most promise.
Pressure tube "2" is being repaired.
Ad.2: Driller's depth 1817 meters. Logger's depth 1829 meters
Ad.3: Processed 32 bags, last bag 3253, 1789.15 m.
Weather: blue sky or high thin clouds, -23°C to -13°C, 5-17 knots from SSE and S.
Visibility: In the morning some fog, later unrestricted.
FL, J.P. Steffensen