16 May 2009
Drilling into the ice below the casing

Trevor and Steff extract a 1 meter core from the HT drill.
Although weather has cleared, the snow still blows. Tomorrow, we will be forced to go out on the skiways to groom them anyway. We have cleaned the main dome and removed a lot of crates. We have worked in the drill trench. Drilling goes well. Right now, we are in the delicate process of drilling into the ice proper below the casing that was inserted last year. This has to be done in steps as the hole at the termination of the casing is funnel shaped. When we have drilled 11-13 m into the ice proper, we can be sure that our long drill can get a "foot hold". Then there will be a pause in drilling as we change from the HT drill to the long "real" drill.
What we have done today:
Drilling with HT drill. Depth 103 m.
Making filter for clothes dryer.
Cleaned main dome and removed crates.
Installing emergency switches at several stations at the drill site.
Building and lining up logging/extraction table.
No work outside. Too much blowing snow.
Celebrating Saturday evening.
Ad.1: This is how the drillers report looks today:
"We continue with the HT drill in the dry mode with 134 mm cutter configuration. These wider cutters produce more chips than the system is designed to take in dry mode and thus caused packing around the drill head that would require aborted runs due to high motor current. A stable mode was found by giving cable slack for 4 cm at a time and then waiting to allow the drill head to clear itself. A full chip chamber resulted in 1 meter core lengths. There are no more "moon" cores as we have completely exited the old borehole. The antitorque skates have cleared the bottom of the casing. They had to be incrementally adjusted after each run to their nominal diameter to overcome side forces and the narrowing of the borehole as we pass through the various reamed sections as the full length of the drill began to enter the new 134 mm diameter borehole. Inclination is 0.5° so the hole is very plumb. Driller's depth is 93.72 meters (~103 m below 2008 surface)."
Weather: Haze and thin overcast in the morning, later blue sky, -26°C to -14°C, 12-20 knots mainly from S and SSE.
Visibility: 500 m to 4 km. Blowing snow.
FL, J.P. Steffensen
Trevor and Steff while tilting the tower from horizontal to vertical.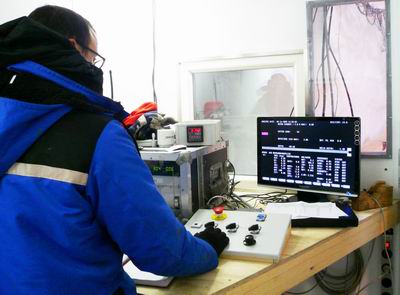 Trevor in the control cabin.