1 August 2008
97% solar eclipse at NEEM

97% solar eclipse at NEEM at 07:30
After a night only a few hours long for most camp personal we enjoyed watching a 97% solar eclipse at 07:30 while palletizing the last pallet and following the skier en route to camp. The skiway tilled the evening before had improved significantly and the operations went very smooth. Goodbye to 12 bodies from NEEM and 16 DV's. We truly have enjoyed the DV visit. Thanks for taking the time to visit us! We had the pleasure of welcoming the Kansas radar team, Liz our new doc and Tim. The plane departed at 10:11 and the camp collapsed until lunch at 13:00. Work as usual in the afternoon and NEEM was back in the usual mode again.
What we have done today:
Recieved Skier 72 with 5 pax for NEEM

Goodbye to 16 DV's and 12 pax from NEEM

Solar eclipse at 07:30

Continued making the steps down into the 8.2m deep inclined drill trench

Continued widening the side walls in the drill trench

6 lights mounted in the roof of the drill trench

Camp slept from skier take off at 10:11 to lunch at 13:00

Continued attaching the loose rubber panels on the roof of the main dome

Placed the third fuel tank on sledge

Unpacked pallets

Piled free pallets on cargo line ready for retro

Ad 1:
A retro-load of 14.400 lbs was lifted from camp without use of ATO's. The full skiway was used. Thanks to all the 109th in Greenland this week for good operations.
Weather: overcast, -5 - 9 C, wind 9-14 knots from SW, visibility unlimited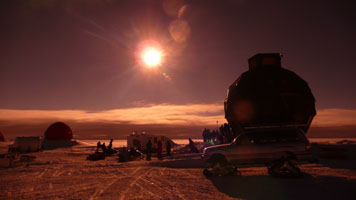 NEEM camp watching the eclipse