19 July 2011
Good flight weather and digging again


Little brother (CReSIS UAV) departing from big brother (Skier 21)
Finally we have cold night temperatures and the Skier mission to NEEM could be done. The skier arrived at NEEM at 10:00 local and replacement ATO's, cargo and the little remote control CReSIS aircraft was off loaded. The Skier took of using half the skiway and no ATO's. It was a relief to see operations back to 'normal'. After departure the camp immediately continued the snow removing projects around the Dome. Shovels, chain saws, ice axes, sledge hammers, snow blowers and the Pisten Bully were used by a big work force and just before dinner the mould was complete around the castle of Dome NEEM and the bridge was lowered for entrance for dinner.
What we have done today:
1.  Receiving Skier 21
2.  Monitoring of water vapor
3.  Mounting Japanese aerosol station
4.  Sampling Japanese pit to 5.5 m
5.  Working on the GLISN project
6.  Arranging CReSIS UAV and equipment in the carpenters garage
7.  Removing ice and snow around the Dome
8.  Built and installed an entrance bridge on the main Dome
9.  Taking down HF antenna after Skier mission
10.  Maintaining winch motor system on 3 inch shallow drill

Weather: Broken overcast, Temp. -15 °C  to -8 °C, wind 6 to 13 knots from SE
FL, Dorthe Dahl-Jensen


Moving CReSIS UAV to hangar (carpenter garage)




Chopping ice around the main Dome in order to free the 15 legs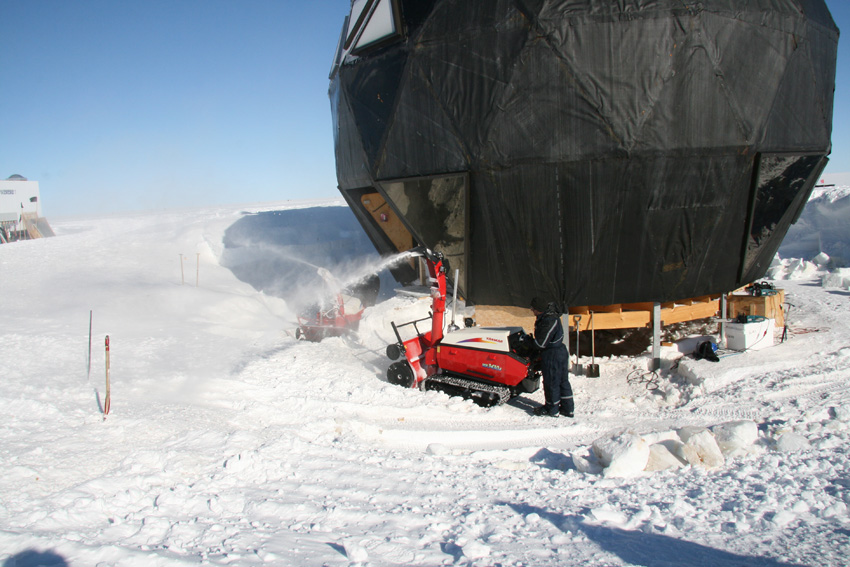 Using snow blowers to remove snow around the Dome

The castle of Dome NEEM – bridge to the entrance of the Dome.