10 July 2010
The most fantastic ice bar

The snow bar opens on Saturday night.
Saturday in camp again. During the last days an ice bar has been prepared with a polar bear, shelves for the bottles and seats for the guests. On top of the bar frozen ice hands. The beach bar opened today at 19:30 and the safety was maintained by an Australian life guard. The dinner was prepared by Jean Louis, Jerome, Corentin and Gerko and was absolutely outstanding. THANKS.
Drilling and science has been going well today. The science trench is reaching into the very brittle ice and each core is a puzzle to sample. There are however big undisturbed pieces that can be used for CFA and gas sampling.
Drilling: 9.61 m, drillers depth: 2411.91 m
Logging: 9.12 m, loggers depth: 2427.73 m
Processing: bag 1360-1393 (18.70 m) 766.15 m
CFA: bag 3738-3769 (17.6 m) 2072.95 m
What we have done today:
Drilling and core logging ice.
Processed deep ice cores.
CFA measurements.
Replaced Iridium OpenPort antenna on top of Main Dome.
Maintenance of main generator at 4pm.
Saturday night, ice bar…
Ad. 1. Fishing for core catcher spring in the morning…
Ad. 4. Friday night camp lost the Iridium e-mail connection as there was no communication between the BDE unit in office and the ADE antenna on the roof (status LED flashing red). Saturday morning we replaced the SIM card, the BDE unit, the cable between BDE and ADE, and finally the ADE antenna, which caused the problem. We're now back to the previous configuration, except for the replaced antenna, and the communication is working as before.
Weather: Clear blue sky, winds up to 6 knots from SSE and temperatures -15°C to -5°C.
Field leaders Dorthe Dahl-Jensen and Anders Svensson.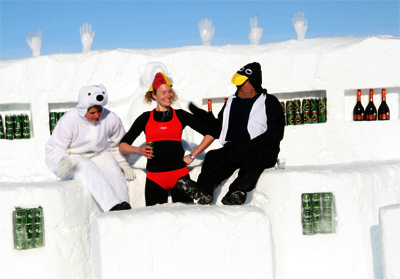 Anna, Lizzie and Fernando – and the snow polar bear behind –
really make the NEEM beach bar unique!