4 August 2009
A good and productive day in camp

James sampling a hand drilled ice core for studies of metal tracers.
It has been a good and productive day in camp. We prepared the camp and skiway to be used for training by LC-130 and we used the afternoon to sample pits because the weather was good. The sun is getting low in the evening and it is very popular to ski or walk in the evening.
What we have done today:
Drilling with the NEEM long drill: 19.04 m. Drillers depth: 1511.54 m.
Logging 15.41 m of core. Logging depth: 1521.22 m.
CFA analysis: 5 NGRIP bags and 36 pit samples from NEEM.
Processing 11.55 m of core. Processing depth: 1484.45 m (bag 2699).
Biological sampling at NEEM2009S2.
Starting pit study 500 m from camp.
Grooming skiway to be able to serve the air guard for a proposed training mission on Wednesday. The mission has however been cancelled.
Building a pallet with the gas sampling equipment and an empty drum pallet. All pallets have been moved onto drums.
Working on improving the HF radio antenna.
Ad 1: Drillers report August 4th:
"A stable mode has been found again by replacing both boosters on the hallow shaft with centering rings. The chip chamber fills evenly from the top down and 24 kg of chips per 3.5 meters is routine in this mode. The best cutting pitch is still 2.1 mm. Inclination has corkscrewed back down to 2.15 degrees."
Ad 4: The processing stopped at noon to keep 2 days behind the drilling in order to let the drill liquid evaporate from the ice cores.
Ad 5: Biological sampling at NEEM2009S2 by Todd Sowers for microbiological contamination is successfully completed. With expert help from Steff, packets of drill fluid loaded microspheres (1 micron in diameter) were delivered to the base of the S2 hole (depth 99 m). Subsequent coring yielded wet cores that are hopefully coated with beads. Future laboratory cross sectional analyses with a fluorescent microscope will tell us just how far into the centre of the cores the beads are able to move.
Ad 6: 500 m away from camp the afternoon was used to start a pit study by Li Chuanjin and a pit study and hand coring by James Zheng. Details on the sampling programs will follow tomorrow.
Weather: A sunny day with high scattered clouds. Temperature between -17°C and -6°C. Wind: 10-13 kn from SSE.
FL, Dorthe Dahl-Jensen

The shallow drill drilling in wet mode to test the ice cores for microbiological contamination.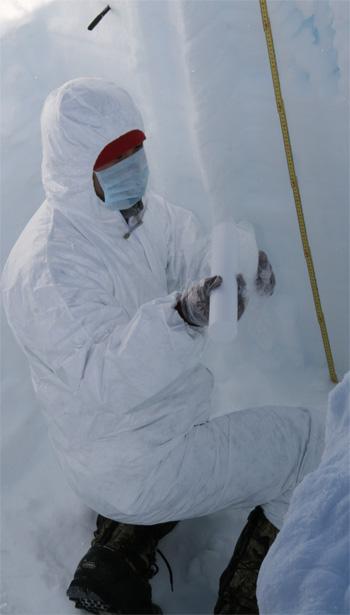 Li Chuanjin sampling in a pit under clean conditions.