30 July 2009
The Media and DV Visit - and Exchange of Crew

Media interviewing Dorthe in the drill trench.
A very busy day in camp for all.  The morning began very early with weather observations, packing of ice pallets grooming of skiway and packing of personal equipment. Skier 96 arrived at 10:00 with 37 guests and new NEEM'ers. We had 4 filming media teams and the drill and science trench where on show. The guests stayed in camp for 5 ½ hours while the skier picked fuel up in Thule for the camp. There was also time for coverage of the outside logistics and the busy main dome. We had 19 NEEM'ers leaving camp and 17 new NEEM'ers arriving. Goodbye to all out departing friends – we will miss you!
What we have done today:
1.Drilling with the NEEM long drill: 16.02 m. Drillers depth: 1438.04m
2. Logging 13.29 m of core. Logging depth 1451.26 m
3. CFA analysis: 0.00 m. Depth: 580.25 m.
4. Processing 0.00 m. Processing depth: 1397.00 m (bag 2540)
5. Grooming skiway after 2 inch snowfall the last days
6. Receiving skier 96. A BIG thanks for more than excellent operations.
7. Media and DV visit.
Weather: Overcast with light snow with patches of blue sky in between.
Wind 9-15 kn from S. Temperature -11 to -7°C.

Goodbye to all our departing NEEMer.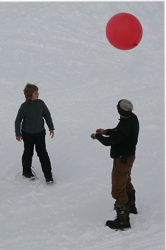 Release of a weather balloon to measure the rather low ceiling of the clouds before arrival of the skier. 
FL, Dorthe Dahl-Jensen