8 June 2009
A small revolution

A wonderful sight: Busy people in the science trench.
Today, the science trench was ready to begin processing. With Jeppes repair of the line scanner, all posts reported ready. Bo, Susanne, Anders and Maggan are in charge of instructing the new people in their tasks. A few cores were passed through the different positions, saws were adjusted and little details were corrected. It was a start, and tomorrow the science trench will slowly gather speed and efficiency in processing.
The start of processing coincides with the time where the end of construction is at hand. Today, the shelves in the cook's freezer were finished, and all frozen food was put in place. Now, we just need to put up a small storage garage, and NEEM camp construction will be finished.
In the CFA lab. more equipment is being added, it is the hope, that in one week the CFA lab. will be in action.
What we have done today:
Drilling with the NEEM long drill.
Logging. Last bag: 495. Depth: 272.25 m.
Processed the first cores.
Building snow hill for storage garage.
Repairing hardware for line scanner. DEP and line scanner now running.
Finished cooks freezer. All frozen food in store.
Made a big box for rubbish.
Ad.1: This is how the drillers report looks today:
"In the morning, Henry mounted slightly thicker pump knobs, to avoid sticking pump, we believed. The first run was aborted due to loose super-banger coupling. At surface the long shaft could not be pulled out more than 2 cm. In order to understand these pull out problems the outer barrels was disengaged from the chips chamber to expose the pump. The pump and sleeve was in good shape. After some inspection it became clear to Nobby that an internal recess edge in the top of the outer barrel could catch on the pump knobs due to the missing centre ring. Having understood our problems, the drill was assembled with a polyethylene booster above the pump for centering, as Steff prefers it, and 4.5 mm shoes with 2/100 mm shims. We ended the day with 3 good and stable runs, with over 3 m cores each and easy pull out.
We drilled 9.56 m today in 4 runs; drillers depth 262.45 m."
Weather: Fine all day with periods of few scattered clouds. A little windy at Noon. -23° to -16°C, 10-17 knots mainly from SSE. Visibility: Unrestricted. FL, J.P. Steffensen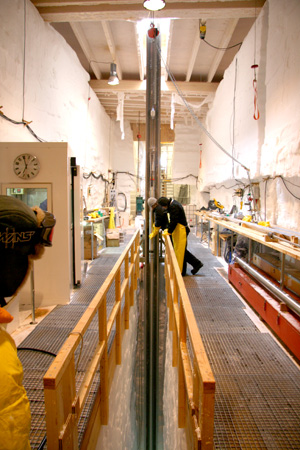 The drill emerges from the deep with a 3 m ice core.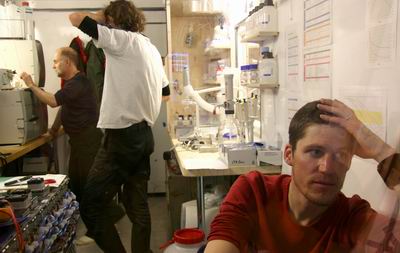 Work in the CFA lab is not always easy.