11 August 2008
The floor where the Viessman cabins are to be placed was carefully levelled following Henry's method.
Making floor in science trench.
Levelling floors involves moving snow (as most other activities in camp) and the ongoing fight with the frozen motor of the elevator used to move the snow from the trench to the surface continued. In the drill trench the solid pull out table made by Thomas got the final touch!
What we have done today:
Tables where placed along the walls in the drill trench.
Full lists of retro cargo prepared.
Packed the cargo sledges.
Cleaned on the surface
Vehicle maintenance.
Levelled floor in science trench.
The final finish on the pull out table.
Weather: -5 to -8 deg C, wind 3 to 16 knots from SW (true), visibility variable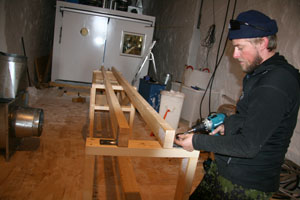 Final touch on pull out table