18 July 2011
En varm dag, hvor der blev gravet


GLISN projektets solpanel-rammer under konstruktion
Igen en varm dag og ingen håb for fly. Efter vejrrapporter kl 04 til kl 06 besluttede vi at aflyse fly for de næste 24 timer. Istedet var der arbejdsro i lejren og de to der skulle have været afsted Christopher og Gideon hjalp til med GLISN arbejdet og tvunget til at grave huller og sætte sol panels ben op.

Idag var også dagne hvor det store arbejde med at sætte slæde under hovedbygningen begyndte. Det første skridt var som sædvanlig at flytte sne fra hovedbygningen-på en eller anden måde ender glaciologer altid med en skovl i hånden!
Hvad vi har lavet idag:
1. Aflyst fly til NEEM
2.  Målt vanddamp
3.  Gravet den japanske snepit ned til 5.5 m
4.  Sat solpaneller op til GLISN projektet
5. Sat en GPS station med satelit op for GLISN projektet
6.  Flyttet sne og is rundt om hovedbygningen
Vejret: Overskyet senere opklaring, temp. -12°C til -4 °C, vind 4 til 15 knob fra N vendt til SE.
FL, Dorthe Dahl-Jensen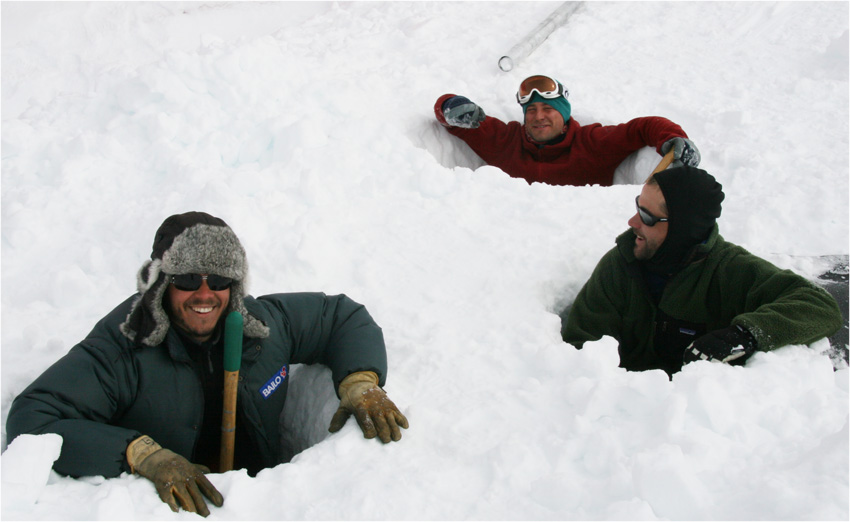 Boring af huller til benene til rammerne for solpanelerne